We update the software regularly and post the newest things here. You can also receive these updates via email once per month.
November 3rd, 2022
We've redesigned the spreadsheet output so you can see what's been submitted when there's a lot of text in each cell better.
November 3rd, 2022
You can now add custom data to any order you'd like and use it to show the client custom things on their portal, for example, via order metadata!
November 3rd, 2022
👾 New Conversion Pixel Template
You now have two templates you can edit (on any plan, not just Pro): one for your custom scripts and one for your custom conversion scripts. So you don't have to think about where exactly to put tracking pixels. Dump them in one of the two files and they'll be called on pageload or purchase.
November 3rd, 2022
🏎️ More Display Preference & Bulk Actions
This is sort of a general UI thing – you can enable/disable table columns in most admin views. The customize button is under the (...) menu at the top-right. Oh, and there are more bulk actions available now, like the ability to change client status.
October 3rd, 2022
➡ Copy Intake Forms to Entire Folders
You can now copy intake forms to all services within a folder by going to Service → Intake Form → Copy → Selecting the folder from the dropdown!
October 3rd, 2022
✨ Faster All-Time Reports
Makes the reports in your dashboard faster, and lets you view all-time reports without timing out. Even with millions of customer records.
September 27th, 2022
You're now able to export all of your services via Dashboard → Export → Services. A CSV file will be sent to your email inbox 📨
September 19th, 2022
Create and modify the default client statuses to your preference!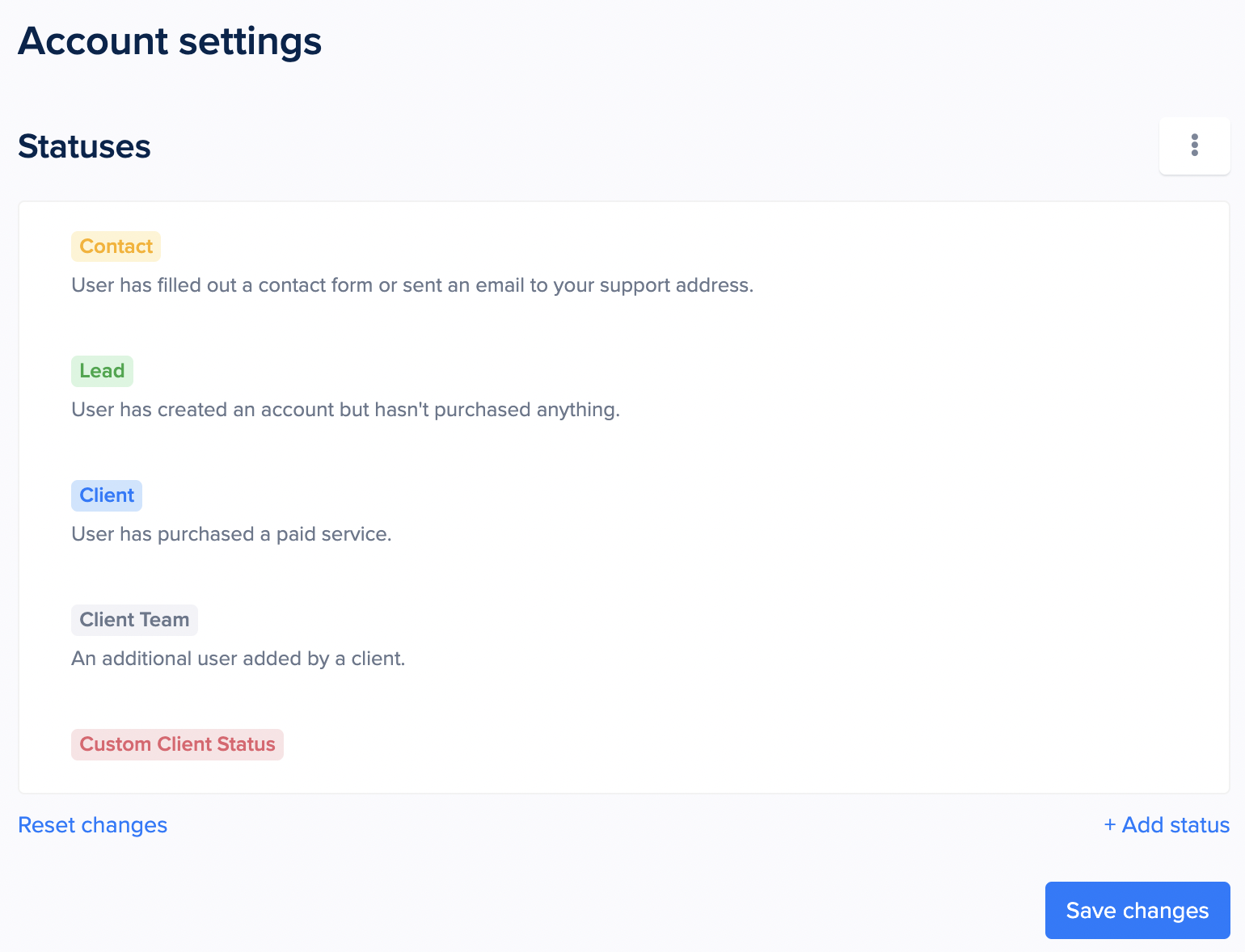 September 13th, 2022
You can now limit simultaneously active requests using metadata. Check our handy guide here to see how!
August 15th, 2022
🗄 Google Drive Integration
Prefer having a Google Drive folder for each client's files? Now, you can embed Drive folders directly into SPP for your clients to access!
August 15th, 2022
Add Intercom live chat to your Client Portal allowing clients to reach out to you with ease.
August 15th, 2022
📊 Agency Analytics and Google Data Studio Integrations
Embed Agency Analytics or Google Data Studio reports directly into your client portal allowing you to share relevant reports with your clients - hassle-free!
August 15th, 2022
📌 New Google Tag Manager and Google Analytics 4 Integrations
Whether you'd like to track things via Universal GA, GA4, or GTM, we've got you covered with our new integrations!
August 2nd, 2022
Allow your clients to sign agreements with ease using our E-Signature feature.

July 7th, 2022
👀 File Preview & Download Links
Your can now preview and download files easily directly within a message!
July 4th, 2022
Add individual due dates to each of your tasks directly in your service tasks settings.
June 9th, 2022
There are three new form field types to accept data from your clients with: formatted text, date, hidden!
June 9th, 2022
You can now embed your contact forms directly on your website while preserving the design and rules functionality.
June 9th, 2022
📄 Role for Limited Invoice Access
This is a role you can give to your sales people so they can create invoices and manage the subscriptions they've created. They won't see other people's invoices or subscriptions.
May 16th, 2022
🤖 Clients/Services Importer
If you're looking to bulk import clients or services, you can now use our CSV importer to do so! Navigate to Services/Clients → [ ⋮ ] button → Import.
April 28th, 2022
Your clients can pay in style with our new Order Form design!
April 12th, 2022
␚ Subscription Details Page
Subscriptions now have a dedicated place, leaving orders clear of payment related things.
April 12th, 2022
Your clients can now start filling out an intake form on their phones, save draft, log on from their computer and upload some more files then submit with a breeze.
April 12th, 2022
🧑‍🤝‍🧑 Ticket Collaboration
Client team members are now able to collaborate on tickets, similar to how they are able to on Orders. Tickets will show up across an entire client team for ease of access.
March 11th, 2022
If you're looking to automate your new ticket workflow, we got that trigger for it as well. And you can also send ticket messages now.
March 11th, 2022
You can now see all client files in one place, and filter them by client or order. It's not just for you though, your clients can also see their own files (and their team's) in your portal. Should make life much easier when it comes to finding assets across orders.
February 11th, 2022
You can now create service packages that generate credits, and you can create services priced in credits, so that clients can buy them using their balance.
February 11th, 2022
🧾 Improved Partial Payments
Selecting the "partial payment" option when creating an invoice will now generate two separate but sequential invoices that the customer can pay.
January 20th, 2022
Similar to order statuses, you can now create your own ticket statuses to build a workflow that fits your needs.
December 24th, 2021
Enable ticket ratings to let clients rate the responses they have received from your team (coming soon to orders).
January update: ratings are available in orders, too.