How to Start a Content Creation Agency: The Definitive Step by Step Guide
Key points
Researching your niche and identifying potential clients is crucial before starting a content creation agency.
Building a team of experts in content creation, marketing, and sales can help grow your agency.
Offering a unique value proposition and pricing structure can set your agency apart from competitors.
Despite the ebbs and flows of the current marketing landscape, content marketing remains one of the most cost-efficient, measurable, and impactful marketing channels. So if you're thinking of starting your own agency with a focus on content creation, this might be the time to do it.
Whether you're a seasoned freelancer in content creation or relatively new to the industry, starting a content creation agency won't be easy. It won't be an insurmountable challenge, either. The demand for content is high, but the number of freelancers and agencies offering content services is rising every day. If you want to start a content creation agency, you'll want to make sure you stand out from the crowd.
But how do you start a content creation agency that leaves competition in the rearview mirror and stands the test of time?
Here's a guide to help you out.
What does a content creation company do?
A content creation company provides content marketing services, including website copywriting, SEO consulting, blog writing, social media content, video production, and other related services. These services are used by businesses to create valuable content that helps them acquire and retain customers while also increasing their visibility in search engine rankings, as well as their awareness in the industry.
Your content creation agency can either offer end-to-end services related to content marketing or focus on a specific niche. For example, you might want to focus on lead generation copywriting for SaaS businesses, social media management for fitness brands, or video production for startups.
Regardless of the services you decide to offer, it is important to make sure that you are providing top-notch content that is engaging, informative, and adds value to the customer's experience.
How to start a content creation agency in 6 steps
OK, let's say your mind is set on building a content creation agency. Here's where to start.
1. Define value proposition
If you search for "content marketing" on LinkedIn and apply the "companies" filter, the platform will give you more than 223,000 results. Of course, not all of these are content marketing agencies—but then again, not all content marketing agencies are on LinkedIn. The idea here is that there are a lot of businesses offering services in the content marketing space. If you want yours to succeed, you first need to make sure that your services stand out.
Colors, a catchy tagline, and even a posh-looking website can help with that. However, your logo or website's homepage won't be effective if you don't define your value proposition first.
Your value proposition is the promise of what you can offer to prospects, customers, and partners. It is essentially the reason why a customer should pick your agency over someone else's; the thing that makes you unique and lies at the foundation of growing your business. 
Here are some essentials to keep in mind when defining your value proposition.
Understand the basics of a value proposition
A value proposition is a simple statement that defines what you provide to your customers, and what goals they can achieve. It should be specific, unique, and compelling—but also brief. You want people to remember it and understand it without getting bogged down in details. Essentially, when someone reads your unique selling proposition, they should smile/laugh or have an "Aha!" moment.
Most businesses focus on just the primary value proposition (who we are, what we do, who we do it for, and why). However, if you want to get down to the nitty-gritty and nail who your agency is, who it serves, and what kind of value it provides, also consider your:
prospect-level value proposition (why different buyer personas should choose you over anyone else)

product-level value proposition (why your different services and products are unique)

process-level value proposition (what sets you apart from competitors in terms of the customer experience)
Choose your market wisely
As mentioned before, there are a ton of content creation agencies out there. To ensure that you're successful, it's important to choose the right market and niche for your agency.
Ask yourself:
What industries or verticals do we have the most expertise and experience in?

Who are our ideal customers? What are their pain points, needs, and goals?

What sets us apart from other content creation agencies? What unique value do we bring to the table?

Who are our biggest competitors and how can we differentiate ourselves from them?

What types of content and channels are most effective for reaching and engaging our target audience?
Don't try to be everywhere
Content is a huge thing. Basically, everything you see online is content. Unless you have a solid base of clients for every channel and a massive team to support creating content for everything, it's best to focus on a few channels and master them.
For example, if you're good at creating visual content like graphics, videos, and animation, then focus on that. Or, if you're better at short-form videos, focus on TikTok and YouTube reels. And if you're best at creating unique written resources for businesses, like case studies, for example—then do that. 
Trying to be everywhere will get you nowhere.
Focus on the customer's benefits
Your value proposition isn't about you. It's about what you can do for the customer. So when crafting your content marketing agency value proposition, keep in mind that it should be focused more on the customer's benefits, rather than what you do per se.
Show, don't tell
You obviously shouldn't exaggerate the benefit of your services. Still, emphasizing the benefits of using your services/products can help you stand out from the competition.
For example, instead of saying, "we create high-quality content", you could say, "our content has boosted client sales on average by 65%." This shows that you're not only confident in your content creation abilities but that you also understand the customer's needs and goals.
2. Calculate pricing and revenue structure
Once you have your value proposition defined and you know the target market, it's time to create your pricing and revenue structure.
Grow your industry knowledge
Join thousands of agency owners and get our best agency growth content in your inbox, one email per month 👇️
Here are the steps you should take to calculate pricing and revenue structure for your SEO content agency.
Assess your costs
Before you set your prices, assess how much it costs to actually run your agency. Take the following into consideration:
price for content (freelancers, in-house employees)

other types of in-house employees

the software you will be using

marketing expenses (you do need to run marketing for your agency)

any equipment you and your employees may need

costs for rent and utilities (if you have a physical office)
Determine your revenue structure
Your revenue structure is the specific model you will choose for your agency. For instance, some agencies charge on a project-based model, whereas others charge on a retainer model, and others choose a hybrid between the two. Furthermore, some agencies settle for a subscription-based model that puts an emphasis on self-service.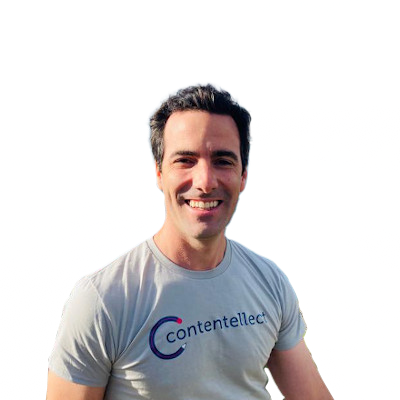 All revenue structures have advantages and disadvantages. Yet, if we had to narrow it down to the absolute essentials, project-based models are better for short-term projects, whereas retainers are better for long-term relationships. And since we like productized services so much, the subscription-based model is the way to go in the future. Especially with our credits module, there are many ways to make ordering content easier for your clients.
Evaluate profitability
How much do you need to charge to be profitable? Calculate the cost of producing content and add a markup that fits your margin goals. Also, be sure to evaluate profitability on an ongoing basis, as revenues and costs can change over time.
Set your pricing
Now that you have all the information, you can finally set your pricing. You should use a combination of hourly and value-based pricing to determine the final cost for each project.
For example, if you have finished assessing your costs and calculating your margin goals, you could set a base rate for each type of content and then add an additional charge for any extra work beyond the scope. Alternatively, allow your clients to purchase word credits via our credits module. The benefit is that you receive your money upfront, and they can spend their credits as needed.
3. Invest in tools
If you want to be competitive in today's content marketing landscape, you need to invest in the right tools. Investing in content creation and marketing tools will help you create high-quality content quickly, increase your team's productivity, and automate some of the manual tasks related to content creation.
Some tools you might want to consider include:
SEO research tools (Ahrefs, Semrush)

content optimization tools (Frase, Writesonic)

social media marketing automation tools (Hootsuite, Buffer)

content scheduling (StoryChief)

billing, order management, and referral management (SPP)

reporting tools (MOZ, Databox, Google Analytics)

tools for targeted email marketing (MailChimp, Klaviyo, Drip)
Sure, these tools aren't free, but they're an investment made in your agency's profitability, efficiency, and reputation. Work with the best software to make content creation a smooth experience—both on your end and especially on your customers' end.
4. Hire the right people
You can't build a business alone, so make sure you hire the right people and build a great team.
If you're looking to bring on freelancers, be sure to carefully vet each candidate against your company values, mission, and purpose. Run paid tests to assess the quality of their work. Make sure they understand the industry and know how to create great content.
If you're hiring in-house employees, focus on finding people with skill sets that bring value to your agency. As for freelancers, make sure that they share your company's mission, values, and purpose. Also, look for real skills, not just certifications and titles—the latter are nice to have, but may not always translate into actionable, productive results.
Remember that, aside from content creation talent, you also need to have someone who can focus on client relations, managing tasks, scheduling projects and deadlines, as well as a content strategist to lead the way.
With the right team in place, you can increase your revenue and continuously improve your agency's performance. So take your time, invest in the best, and, very importantly, work with people who are a good culture fit for the agency you want to build. The best talent in the world can be wasted on the wrong team.
5. Create a process and automate it
Efficient processes are part of the reason businesses work with agencies in the first place. They don't have the internal talent, the time, or the energy to dedicate to building content creation processes—so they're happy to outsource this to a different business.
That means your processes need to be flawless. From client onboarding to maintaining a relationship of continuous collaboration, every step of the process needs to be documented and kept up-to-date.
Meanwhile, by automating some parts of your content creation processes—such as content scheduling or client updates—you can save time, reduce costs, and increase efficiency. This will also allow you to focus on creating higher-quality content while increasing customer satisfaction.
Tools you can use to automate your processes include SPP's client portal API and webhooks, Zapier, IFTTT, and Autopilot, all of which can help you connect thousands of tools among each other.
6. Evaluate your marketing strategy
Once you have the right people, you'll need to evaluate your agency's overall marketing strategy. That means understanding what content works best for your target customers, how often you should reach out to potential clients, and the channels that work best for them.
Remember, when you use content as a growth tool for your own agency, you're not just running campaigns—you're also showcasing your capabilities to potential customers.
So make sure you have a content strategy that speaks directly to your target audience, tells compelling stories they can connect with, and focuses on delivering value. Focus on creating the right kind of content for each channel, and use data-driven insights to evaluate your performance.
Finally, don't forget to track the success of your content so you can learn from it and continuously improve.
By following these strategies, you'll be well on your way to building a successful content creation agency that produces quality results for both clients and customers alike.
Summary
There's a reason content marketing is so popular: it drives traffic to websites, helps build trust with potential customers by providing them with helpful information and valuable insights. Even more, it does all this at a fairly decent price (especially as compared to paid marketing, which can be a money-vortex machine in many situations).
Content can be used to generate leads, nurture relationships with existing customers, and establish thought leadership in your industry. Additionally, it can help you stand out from the competition and show potential customers why they should choose you over other companies.
Done right, content can be a stackable asset for a company: every piece of content will produce incremental returns over time. Done wrong, however, it can be a costly affair that yields insufficient results.
You want to make sure you provide your clients with the very best content there is: the kind that makes it stand out from the crowd and drives real business results. To do this, you need to build the right team, create efficient processes and automate them, and evaluate your marketing strategy regularly.
With these strategies in place, you'll be well on your way to creating a successful content creation agency.