Integrating Stripe
To set up Stripe you'll need to authorize your Stripe account by going to Integrations > Stripe.
If your SPP account is currently in Test mode, your Stripe account will be authorized in test mode as well. When you switch your SPP account to Live mode, you need to authorize your Stripe account again in Live mode.
Importing Pre-Existing Subscriptions
You may have pre-existing subscriptions that you'd like to import from Stripe that have been set up outside of SPP, to do this, simply navigate to Integrations > Stripe > Connect with Stripe. Once you've connected with Stripe, you'll see an "Import Data" button on the top right:
Select Import Subscriptions
SPP will then scan all subscriptions you have available in your Stripe account and show you a table with all of them:

Next, find the subscriptions that you'd like to import, or click on the checkbox to automatically mark all the ones that aren't already in SPP, then press Continue with selected.
This screen will show you the Stripe ID, product name and the corresponding SPP service. On this page, you'll be able to match your existing Stripe service to its relevant SPP service:

Once you've matched the services, you can press Import subscriptions with products.
And you're done! This will run the import from Stripe in the background and send you an email once the process is complete at which point all your pre-existing subscriptions will be in SPP.
Payment method management
Because SPP saves clients Stripe ID, they can make future purchases without having to re-enter credit card info. Additionally, clients can manage their saved payment methods here:
https://username.spp.io/stripe/manage
This link is automatically added to your Client Portal's sidebar menu when you enable the Stripe module.
Enabling SEPA Direct Debit
If you're an agency in the EU, you might want to enable SEPA payments for your clients, this can be done directly from within your Stripe integration on SPP:
You can then proceed to add it to your payment field within your order forms and your clients will be able to pay via SEPA Direct Debit. It would look something like this: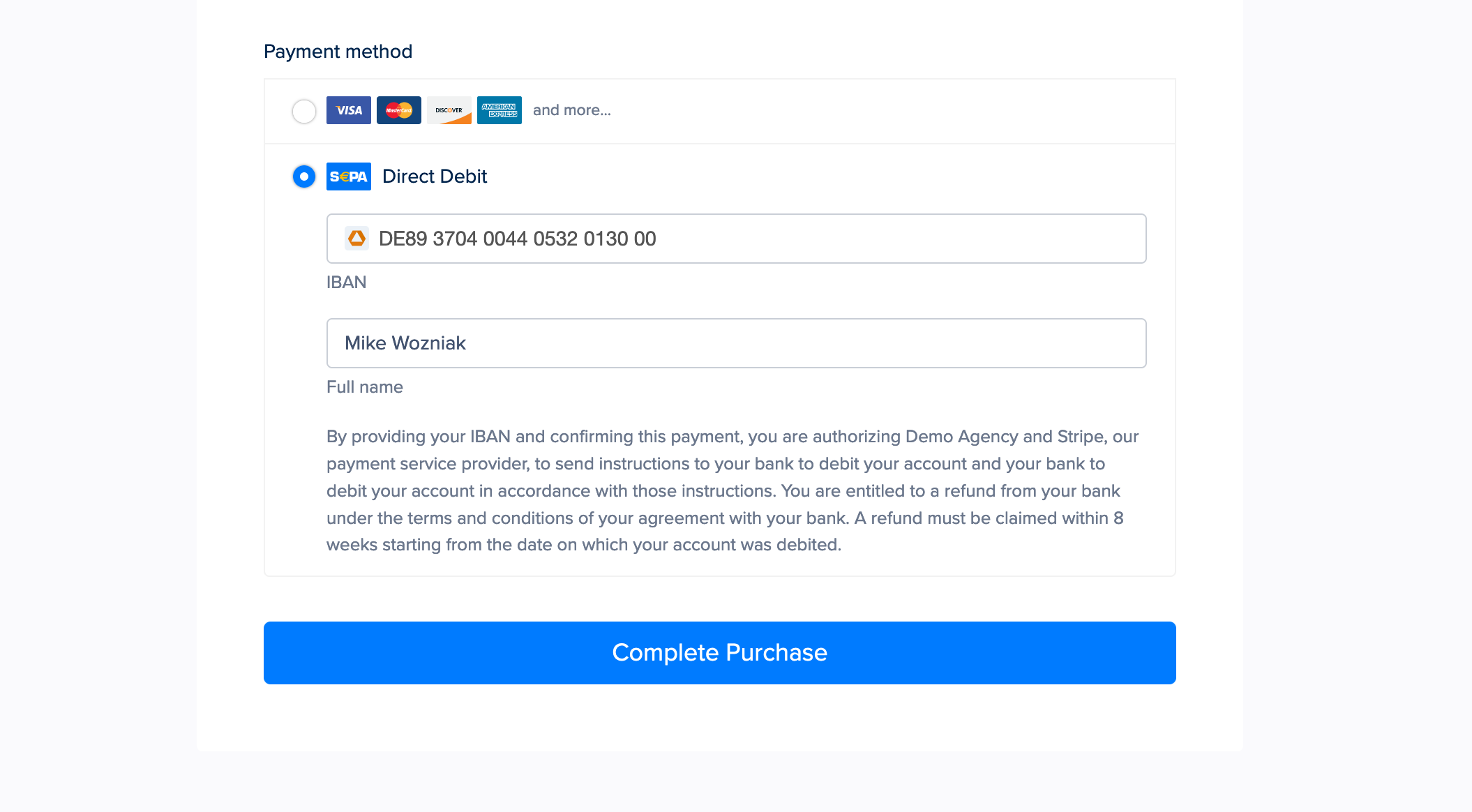 Please note that SEPA will only appear to your clients if the service they selected to purchase is set up in euros.
Receipts
By default Stripe will be sending your customers automatic order receipts. Since SPP also sends payment receipts/invoices, you may want to turn those emails off in Stripe.
Thanks for your feedback 🙏
Was this helpful?